Commercial Locksmith - The Ideal Service
While you may have installed security gadgets like CCTV, motion sensors, etc. at your place of business, a lock system is crucial because of the amount of activity it sees. Most business owners desire the ability to restrict access to particular portions of their structure. As a result, they want a lock system that allows them access to every location while limiting access to certain areas for their staff. You would require the services of Pro-Tech Locksmith if you don't already have such a system. Any kind of lock may be installed or repaired by us. Give us your precise requirements, and we'll discover the ideal locks for your commercial structure.
Keyless Entry Door Locks-Perhaps The Best Choice
These types of locks are operated without keys. They give you the convenience of using your locks without worrying about losing your keys or getting locked out. One can actually just use the touchpad or the keypad to unlock their door. Others have security features like motion sensors, infrared cameras, and alarm systems. They come with biometric security features that only respond to a set fingerprint or face. All these features make this lock an ideal lock system for your commercial place. They put together every aspect of security to ensure you have total control of your facility. If you don't already have this installed and it sounds good to you, why don't you contact our commercial locksmith to get started? Pro-Tech Locksmith is familiar with every type of lock system and can install, repair, and carry out maintenance checks when needed.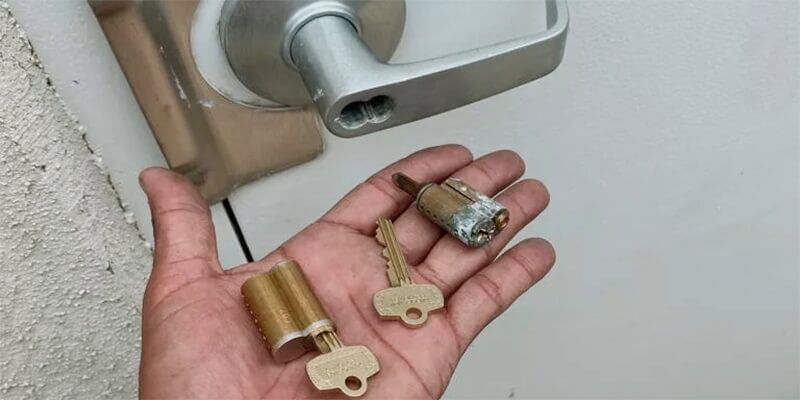 Combination Locks-Repair and Installation!
These types of locks come in a variety, and it depends on your requirements and security needs. You will often find these kinds of locks at schools, hospitals, and office spaces. They use a combination lock mechanism that only unlocks when the right combinations of symbols or numbers have been entered. They can be a great security lock option as they are not easy to decode. If you want the installation of these types of locks or would like to get yours repaired, our commercial locksmith is up to the task. Contact us right away to get the best in St. Louis, MO.
Keypad Door Lock-A Keyless Option
These types of locks are common electric door locks as they work when powered by electricity. As a result, they can be compromised if the power goes out. Nevertheless, they are a great security lock option for your business. You'd never have to worry about lock outs or losing your keys, as you don't need keys to unlock them. The only thing you have to worry about is forgetting the passcode. If this happens and you have no means of recovering the correct passcode, our commercial locksmith can help you out. We can access the lock through a backcode and help reset the lock. You can then input a new passcode. Make sure to keep your code safely written somewhere this time.
Nearest Commercial Locksmith -A Call Away!
Our lock and key expects are always very close by whenever you need our urgent service. This means you don't have to wait long before our emergency locksmith response team gets to you. We are a proud company who are diligent and committed to ensuring only the best services are provided.
Additionally, you don't have to worry about your budget when you intend to hire us. We have the most competitive rates in the city, and this doesn't mean our quality is any less. If it is anything, it is better than most in the city. Feel free to contact us when you need a residential, commercial, or automotive locksmith service.
Commercial Locksmith Services
Commercial Locksmith - FAQ